(John) Jaques of London is probably the most successful maker. At least longest existing, from 1795 till the present day, and run by the 8th generation now. Most famous, of course, is the "Staunton" pattern, which was patented on March 1, 1849, by Nathaniel Cooke, 198 Strand, London.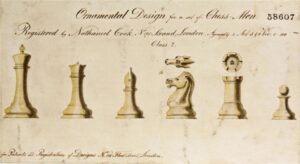 John and Nathaniel were related by the marriage of John's son John (II) with Nathaniel's daughter Harriet Ingram. Nathaniel was editor of "The  Illustrated London News" (1842-2003), founded by his brother in law Herbert Ingram. That paper contained a chess column by Howard Staunton, who was asked by Cooke to advertise the chess set. He did so in his column on 8 September 1849 for the 1st time. As far as I know, Howard Staunton was the 1st sportsman to give his name to a product. It is not certain who is the designer of the Staunton pattern. It is not Staunton and probably also not Cooke. Most likely did John Jaques attribute to the design.
The codex of Frank Camaratta is an attempt to classify Jaques Staunton sets and the names "Anderssen" and "Broadbent" are from that codex and not names given by the Jaques of London company. The codex, however, is far from 100% decisive and Staunton connoisseur Alan Fersht does not use it any more (he left it out in the 2nd version of his book).
England, by Jaques, "Staunton" ("late Anderssen")

ca. 1870

Boxwood + ebony K 7.4; p 3.7

Box 16.0×11.6×6.8
England, by Jaques, "Staunton" ("Broadbent")

ca. 1935

Boxwood + ebony K 9.7; p 5.3

Box 21.8×16.8×10.8