I refer to "The Rose Chess" and Britain pages for the 20th century "Staunton" based sets of Mildred Rose and Britain. The sets are not repeated here.
England. The following is copied from English makers (England) `page for "Staunton" sets of Jaques of London, B&Co and some unknown makers:

(John) Jaques of London is probably the most successful maker. At least longest existing, from 1795 till the present day, and run by the 8th generation now. Most famous, of course, is the "Staunton" pattern, which was patented on March 1, 1849, by Nathaniel Cooke, 198 Strand, London.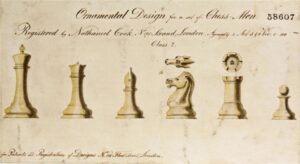 John and Nathaniel were related by the marriage of John's son John (II) with Nathaniel's daughter Harriet Ingram. Nathaniel was editor of "The  Illustrated London News" (1842-2003), founded by his brother in law Herbert Ingram. That paper contained a chess column by Howard Staunton, who was asked by Cooke to advertise the chess set. He did so in his column on 8 September 1849 for the 1st time. As far as I know, Howard Staunton was the 1st sportsman to give his name to a product. It is not certain who is the designer of the Staunton pattern. It is not Staunton and probably also not Cooke. Most likely did John Jaques attribute to the design.
The codex of Frank Camaratta is an attempt to classify Jaques Staunton sets and the names "Anderssen" and "Broadbent" are from that codex and not names given by the Jaques of London company. The codex, however, is far from 100% decisive and Staunton connoisseur Alan Fersht does not use it any more (he left it out in the 2nd version of his book).
England, by Jaques, "Staunton" ("late Anderssen")

ca. 1870

Boxwood + ebony K 7.4; p 3.7

Box 16.0×11.6×6.8
England, by Jaques, "Staunton" ("Broadbent")

ca. 1935

Boxwood + ebony K 9.7; p 5.3

Box 21.8×16.8×10.8
The origins of B&Co. are unclear and research didn't reveal much. What can be determined, based on the style of the chessmen and their boxes is that B&Co. started producing Staunton chessmen in the mid to late 1850s. Stampings are found on their extremely scarce, but beautiful, "Regulation Chessmen" which come in signed box. B&Co. sets are rare. Note the King without cross.
England, by B&Co. London, "Staunton"

Mid to late 19th century


Boxwood + ebony K 7.4; p 4.0
There are a lot of other makers or retailers, like Asprey, J.Barr, BCC (founded by W. Moffat and W. Hughes, making chessmen from 1891 to about 1907, well known by the use of Xylonite, a celluloid), H.Dixon, C.Hastilow, W.Howard, W.Leuchars (probably the 1st retailer of Jaques Staunton sets), Wedgwood, R.Whitty, to name a few older ones. I do not have examples of all of these makers/retailers, but you can find some of them elsewhere on my site.
Here some "Staunton" sets of unknown makers. The large 41/3" (11.1cm) ivory set is a beautiful set, but someone wanted us to believe it is made by Jaques and crudely marked it as such, but it is not a Jaques set. Unfortunately a discovery after purchase. Another imperfection is one white Knight that's missing a little piece of its jaw. The box is not a chess box, I think, and is not in best condition. The 32/3" (9.3cm) bone set is rather scarce. It is very much rarer as wooden ones, and even more rare as the ivory ones, especially in this size which is large for a bone set. I think the box it came in is original. The 21/2" (6.5cm) small wooden set is also of an unknown maker, but is not that uncommon. Note the King without cross.

England, "Staunton"

Mid to late 19th century

Ivory K 11.1; p 4.7

Box pp.p×qq.q×r.r
England, "Staunton"

Mid to late 19th century

Bone K 9.3; p 4.3

Original box 15.9×11.2×8.0
England, "Staunton"

Late 19th century

Boxwood + ebony K 6.5; p 3.5
These 2 small "Staunton" sets of unknown makers are in the collection a long time, but not published till now. I believe they are English and made in 1st half of 20th century. Not 100% sure about origin however.
The 1st set is weighted and felted, has 1 black pawn replaced and some damages. It has beautiful knights in the old Cook style. The 2nd set is not weighted nor felted and has no damages. Knights do resemble the French Lardy pattern. Could that set be French?

England? "Staunton"

1st half 20th century

Buxus (ebonised) K 6.8; p 3.6
England? "Staunton"

1st half 20th century

Buxus (ebonised) K 7.0; p 3.5
The following is copied from Plastic page for "Staunton" sets of F.H.Ayres, Grays of Cambridge, Chad Valley, House Martin and some unknown makers:

England. Here are Galalith and Catalin sets in the "Staunton" design, which are quite old and interesting. Galalith and Catalin are old plastics which hardly, if at all, have been produced after WWII. Galalith could not be formed in moulds, so the pieces are turned and carved by hand. Catalin required every piece being individually cast and polished, which  became too expensive at the end of WWII.
The first set is a Galalith one. It is interesting, because the board can be folded and put over the box in order to close it. There is a difficult to read logo at the closing flap of the board. There are, in a circle, a big combined "R" and "M", another big "M" and "URIE" as well as the word "PATENT". Below the circle it states "APP.FOR". I'm not sure what it means, but it could be RM Murie, maybe the manufacturer, but that is a name unknown to me. It is assumed that Uhlig made the pieces, because they are exactly designed as Uhlig sets like the bone "Staunton".
The second set is a Catalin one and made by F.H.Ayres. We know the latter, because of equal sets in a cassette with the F.H.Ayres logo. However these pieces have characteristics of the Uhlig sets. Maybe the pieces were made by Uhlig as well.
England, "Staunton"

ca. 1920

Galalith K 5.7; p 2.9

Box 14.0×7.5×7.2

Board 26.7(31.7)×25.9

Pieces are probably made by Uhlig
England, by F.H.Ayres, "Staunton"

ca. 1930

Catalin K 7.6; p 3.5

Box 18.2×13.3×6.8
England. The "Grays of Cambridge Silette Chess" in Catalin is based on "Staunton". This version has screws inside, but there exist also a version with pin hole connection. I have seen a set in a carton box as well, but I'm not sure that was original.

England, by Grays of Cambridge, "Silette Chess"

ca. 1935

Catalin K 6.2; p 3.4

Box 17.0×9.4×6.7
England. A cheap, hollow plastic "Staunton" set by The Chad Valley Co. Ltd. with a very well survived box.

England, by Chad Valley, "Staunton"

ca. 1950

Plastic K 7.0; p 3.9

Box 15.3×13.7×5.0
England. Even plastic sets from the 50ies are interesting, as the set with the plastic box proves. There exists a matching board, but at my set the board is of perspex (I think) and of later date (I think). This charming set was made or retailed by the Oralite Company Limited in Thornton near Blackpool. They were dental manufacturers. The firm ceased trading in 1967.
England, "Staunton"

ca. 1950

Plastic K 7.4; p 4.1

Box 16.4×14.6×6.7

Board 44.2×44.2×0.9
England. The later House Martin chess set is a cheap, hollow plastic, "Staunton" set.
England, by House Martin, "Staunton"

20th century

Plastic K 7.0; p 3.2

Original box 17.4×9.0×4.0