Austria. "Biedermeier Coffeehouse" sets are called so because they were made in and around the Biedermeier period, an era in Central Europe between 1815 and 1848.
Very little, if anything at all, is known of Austrian "Biedermeier Coffeehouse" chess set makers in the 19th century. But recently (2016) I did some research on Adolf Dreher, which name is on a sticker inside a box with a "Biedermeier Coffeehouse" set I do own for several years already. See the last set listed, with Bishops wearing a top hat. I found the name and the address on several old papers and "Curlisten".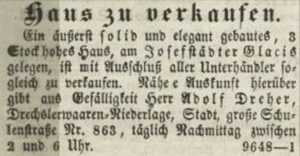 For example, he acted as a broker in this advert on page 6 of the "Fremden-Blatt" of Do, 1. Januar 1852. He owned a "Drechselwaaren-Niederlage" (turner shop) at that time. The address "große Schulenstraße Nr. 863" does not exist any more. In 1862 the continuous numbering of houses was abandoned and changed in a numbering per street. Some streets were renamed as well.

I found his name also on several "Curlisten" like this one of 1853,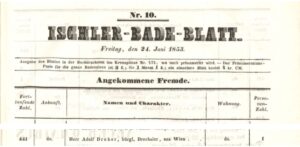 where he is mentioned as "Drechsler" (turner). By the way: "Dreher" means the same. Later I found references in 1855 as "Privat" (private). In the "Curlisten" you find many "Kaufman" (retailer), but also higher ranked military or even nobility. He was apparently well-heeled.

Finally I found in "Fremden-Blatt" of April 1, 1868 his name in a list of people passed away in the period of March 26 to 28, stating he died of a lung-oedema at age of 47, being a "Mithausbesitzer" (rental owner) with address Praterstraße 25.
Austria, "Biedermeier coffeehouse"

1st half 19th century

Boxwood + pear? K 7.5; p 4.1

Box/board 26.5×13.5×6.0 (closed)
Austria, "Biedermeier coffeehouse"

1st half 19th century

Wood K 6.7; p 3.9

Box/board 26.7×13.1×6.0
Austria, "Biedermeier coffeehouse"

1st half 19th century

Bone K 4.7; p 3.1
Austria, "Biedermeier coffeehouse"

1st half 19th century

Wood K 7.7; p 3.9
Austria, "Biedemeier coffeehouse"

1st half 19th century

Boxwood + pear? K 8.2; p 5.0

Box/board 29.3×14.5×5.8 (closed)
Austria, "Biedermeier coffeehouse"

1st half 19th century

Wood K 12.3; p 7.2

Shaker box 22.4×18.2×12.4
Austria, Vienna, by Adolf Dreher, "Biedermeier coffeehouse"

Mid 19th century

Boxwood + pear? K 11.4; p 6.9

Box/board 39.5×39.5×3.9 (open)

Label inside board