Unknown. Some decorative and figural sets of unknown origin. All are thought to be European.
 1st set is made of a kind of ceramic, maybe porcelain.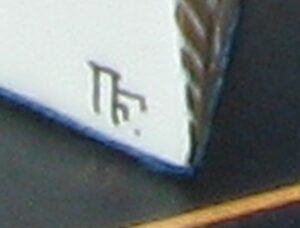 Each piece has the makers logo (I think it is), as shown in picture, but I couldn't figure out who it is.
If you know, then please let me know...
2nd set is quite well painted. Never seen such detailed work in such a set.
3rd set is made of a material that looks like gravel bounded in some way. The surface feels rough.
unknown origin

Late 20th century

Ceramic (porcelain?) K 9.2; p 3.5
unknown origin

1980

Lead K 6.5; p 6.5
South-east Europe

1980

Artificial stone K 5.0; p 4.0