Thomas De La Rue founded the print business in 1813. Soon the company became famous because of their playing cards, a division sold to John Waddington in 1969! In 1853 they printed the world's first surface printed stamp and in 1860 its first paper money (for Mauritius). In 1874 they opened a new factory in Bunhill Row, London. In 1881 they entered the pen market. In 1921 the De La Rue family left the business and the company became publicly owned. Today their main business is banknotes, UK Passport and software for secure data storage and analysis. On De La Rue site is a lot more of information.
Of interest to us are their Wallet sets and Stud sets. Such stud set has a clamp which can have different inscriptions: "TDLR", "TdLR" or "DLRLd". "Thomas De La Rue" or "De La Rue Limited", I think. In 1958 the company dropped Thomas in their name. Question is whether these sets could have been made after 1958 as well ? I have been told that's not the case.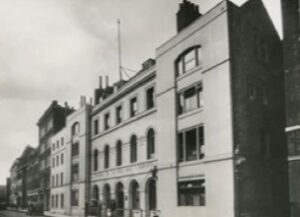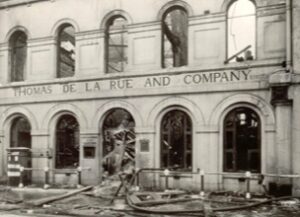 De La RUE factory at Bunhill Row opened in 1874 and demolished on September 11th 1940
The name on the building is: "THOMAS DE LA RUE AND COMPANY" and it looks like that in the 2nd picture a small "Limited" has been added to that. Unfortunately the pictures are not clear enough to be sure.

De La Rue in 1921
The name here is "THOs. DE LA RUE & Co, Limited".